Tear Sheet
Company Overview
One of the nation's largest and most respected providers of hospital and healthcare services, Universal Health Services, Inc. has built an impressive record of achievement and performance. Growing steadily since our inception into an esteemed Fortune 500 corporation, our annual revenues were $10.77 billion during 2018. In 2019, UHS was again recognized as one of the World's Most Admired Companies by Fortune; ranked #293 on the Fortune 500; and in 2017, listed #275 in Forbes inaugural ranking of America's Top 500 Public Companies.
Our operating philosophy is as effective today as it was 40 years ago, enabling us to provide compassionate care to our patients and their loved ones. Our strategy includes building or acquiring high quality hospitals in rapidly growing markets, investing in the people and equipment needed to allow each facility to thrive, and becoming the leading healthcare provider in each community we serve.
Headquartered in King of Prussia, PA, UHS has more than 87,000 employees and through its subsidiaries operates 26 acute care hospitals, 327 behavioral health facilities, 40 outpatient facilities and ambulatory care access points, an insurance offering, a physician network and various related services located in 37 U.S. states, Washington, D.C., Puerto Rico and the United Kingdom. It acts as the advisor to Universal Health Realty Income Trust, a real estate investment trust (NYSE:UHT).
Stock Chart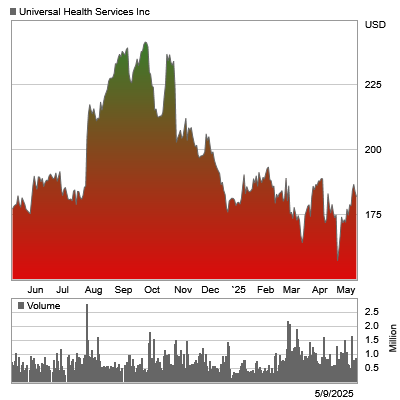 Stock Quote
Change
Volume
52 Week High
52 Week Low
Copyright West LLC. Minimum 15 minutes delayed.
SEC Filings
| Filing date | Description |
| --- | --- |
| | A preliminary proxy statement providing notification matters to be brought to a vote |
| | A preliminary proxy statement providing notification matters to be brought to a vote |
| | A statement of beneficial ownership of common stock by certain persons |
| | A statement of beneficial ownership of common stock by certain persons |
| | A statement of beneficial ownership of common stock by certain persons |
Board and Management
Alan B. Miller

Chairman of the Board and Chief Executive Officer

Marc D. Miller

Steve G. Filton

Executive Vice President and Chief Financial Officer

Marvin G. Pember

Executive Vice President and President Acute Care Division

Matt Peterson

Executive Vice President and President Behavioral Health Division

Charles F. Boyle

Senior Vice President and Controller

Geraldine Johnson Geckle

Senior Vice President, Human Resources

Matthew D. Klein

Senior Vice President and General Counsel

Michael S. Nelson

Senior Vice President, Strategic Services

Victor J. Radina

Senior Vice President, Corporate Development

Cheryl K. Ramagano

Senior Vice President and Treasurer